De tekeningen vanTom of Finland, het pseudoniem van de Finse tekenaar Touko Laaksonen, maakten al vroeg een geweldige indruk op me. Niet eens door het onderwerp, maar vooral door zijn techniek. Dat zachte, ruimtelijke, en toch zo strakke handschrift.
Voor mijn verjaardag kreeg ik onlangs van een vriend een tas. Daarmee gaat mijn dochter van 10 nu naar school. En het mooie is..ook zij werd direct visueel verleid door de wollige plaatjes. Pas later ging ze beter kijken.
Op The Independent vond ik een prachtig artikel over het werk van Tom of Finland. Veel leesplezier!
What began as an artist's pursuit of sexual liberation has transformed over the decades into an emblem for gay rights, Kashmira Gander writes.
Bulging biceps, abs of steel, leather biker gear. The trailer for the Tom of Finland biopic is likely exactly as its namesake would want it. 
After all, that is exactly what made the Fin a pioneering and ground-breaking homo-erotic fetish artist in the late 20th century. (Although he might have made things a little more explicit if he was still alive.)
If you don't know who Tom of Finland is now is your chance to catch up before his biopic, by director Dome Karukoski, and a book of his correspondence, entitled "Sealed with a Secret", are both released in the autumn of 2017. And there's plenty of material to dip into. In the renaissance that Tom of Finland has enjoyed in recent years, a Taschen book (Tom of Finland: XXL) has documented his work, and his art has been shown by major galleries, including the Los Angeles MOCA.
So why is an erotic artist  – whose depictions of hyper-masculine men, including bikers, sailors, soldiers, and cowboys in the throws of lust  – accepted by parts of the art world and why has it achieved cult icon status?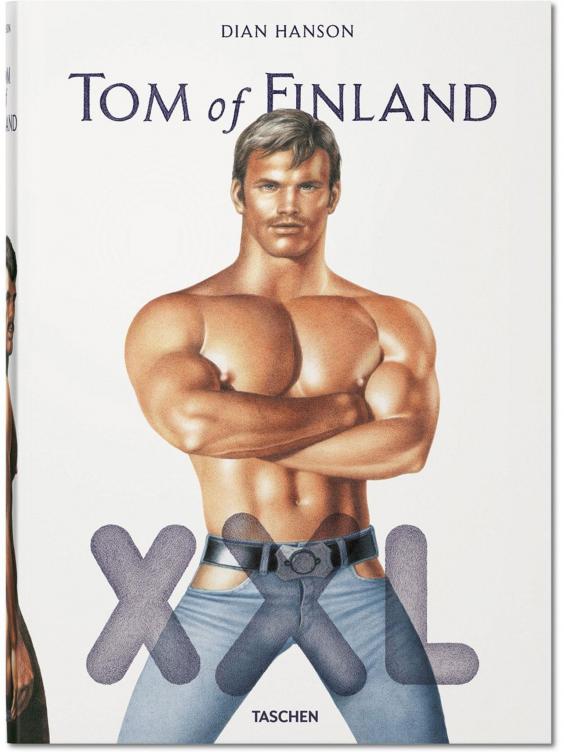 Let's start from the beginning. Born in Finland in 1920 as Touko Laaksonen, he was raised by schoolteachers who cultivated his love for music, art and literature. But it was the strong working class men around him – lumberjacks and builders – that really grabbed his attention. In 1939 he headed to art school, but it was in the chaos of the Second World War, during his time as an anti-aircraft officer, that he was able to live out his sexual fantasies with uniform-clad men. By the mid-1950s, he was encouraged by a friend to send off his drawings to American muscle magazine Physique Pictorial, one of many homoerotic magazines disguised as sports publications to trump anti-gay censorship laws. Taking the advice of the editor to drop the Finnish-sounding Touko and adopt a more American name, Tom of Finland was born.
By the 1970s, as homosexuality and censorship laws were relaxed, his highly sexual work became widely available in the mainstream and hit with liberal America. By that point, Tom had changed pop culture forever.
"Tom's technique improved steadily throughout his life, plateauing in the early 1980s," says Dian Hanson, Sexy Books editor at Taschen, who spent around eight years compiling images for the book Tom of Finland XXL. "His work also became steadily more explicit, as censorship eased, competition pushed the limits, and as he experienced more extreme sexual acts himself. He said that there was nothing he drew that he didn't experience, in the end."
"This mainstream crossover meant that gay male visibility began to be seen by a wider public as hyper-macho, leather and denim orientated, muscular, and so on," explains Dawn Hoskin, a co-chair of the LGBTQ Working Group at the V&A museum.
"This was a far cry from the effeminate, "weak" homosexual stereotype that had pervaded popular culture in preceding decades when pejorative terms like 'sissy' and 'pansy' were born," adds co-chair Zorian Clayton. "In a time when it was still illegal to be gay, Tom's work exuded strength and pride."
Susanna Luoto, the author of the upcoming Sealed With A Secret: Correspondence of Tom of Finland goes one step further.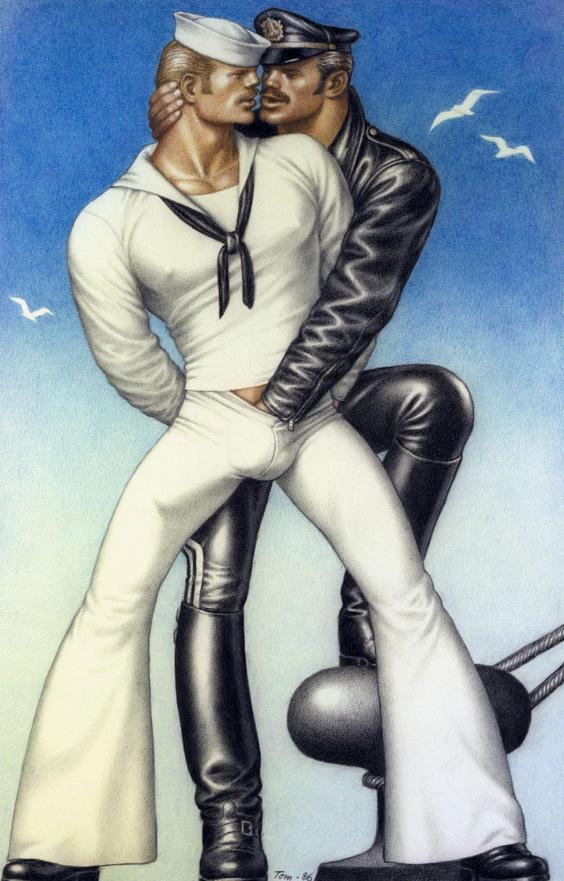 To her, while Tom was simply drawing to fulfil his own need and lust, he was providing a service for gay men "far deeper than he could have ever imagined. These explicit and joyful depictions of gay sex have become a manifestation of equality. It's not so much about art, but human rights," she argues. "The drawings haven't changed, the world has."
And as LGBT communities gain more freedom in some parts of the world, she says Tom's work – however explicit – must and will remain a part of that collective history. She adds: "It lives on only as long as it is actively supported and protected".
Dit artikel verscheen op www.independent.co.uk/life-style/love-sex/tom-of-finland-who-is-the-gay-icon-a7319911.html
Nog wat extra goodies
Er is een film verschenen over Tom of Finland. De trailer vind je hier: http://www.tof.fi/.
En hieronder een mooie docu op Youtube.